Get Creative with Free Embroidery Patterns for Tea Towels
Are you looking for a fun and creative way to add some personal touches to your home decor? Why not try embroidering your own tea towels? This simple and enjoyable craft can add a touch of warmth and whimsy to your kitchen, and it's easy to get started. In this article, we'll take a look at some tips and tricks for embroidering tea towels, as well as some inspiration and resources for free patterns and designs.
Getting Started
The first step to embroidering your own tea towels is to gather your supplies. You'll need some plain cotton tea towels, embroidery floss in your chosen colors, an embroidery needle, and an embroidery hoop. Once you have your supplies ready, you can choose a pattern or design to embroider onto your tea towels. If you're new to embroidery, it's a good idea to start with a simple design, such as a single word or a small image.
Choosing Your Design
There are many free embroidery patterns available online, and you can also create your own designs using software or even by hand. The key is to choose a design that you love and that suits your personal style. Some popular themes for tea towel embroidery include plants, animals, food, and inspirational quotes. You can also add your own personal touch by incorporating your favorite colors or choosing a design that has special meaning to you.
Embroidering Your Tea Towels
Once you have your supplies and design ready, it's time to start embroidering! Here are some tips to keep in mind:
Prepare Your Tea Towel
Iron your tea towel before you begin embroidering to ensure that it's smooth and free of wrinkles. You can also use a light pencil or washable fabric marker to lightly trace your design onto the tea towel before you start stitching.
Choose Your Thread
Embroidery floss comes in a variety of colors, and you can choose one or several colors to use for your design. Make sure to separate the strands of the floss before you start stitching.
Stitch Your Design
There are many different stitching techniques you can use to embroider your tea towel, including backstitch, chain stitch, and satin stitch. You can find tutorials and instructions for these stitches online, and practice on a scrap piece of fabric before you start stitching your tea towel.
Inspiration and Resources
If you're looking for some inspiration or free patterns for tea towel embroidery, there are plenty of resources available. Here are some to check out:
Online Communities
There are many online communities and forums dedicated to embroidery and crafting, and these can be great places to find inspiration and connect with other makers. Some popular communities include Reddit's embroidery subreddit and Craftsy's embroidery forum.
Free Patterns
There are many websites and blogs that offer free embroidery patterns and designs, including RedWork Designs, Cutesy Crafts, and Etsy. You can also find free patterns on Pinterest and other social media platforms.
Books and Tutorials
If you're new to embroidery or want to learn more advanced techniques, there are many books and online tutorials available. Some popular resources include "Embroidery: A Beginner's Step-by-Step Guide to Stitches and Techniques" by Charlotte Gerlings and "Sublime Stitching: Hundreds of Hip Embroidery Patterns and How-To" by Jenny Hart.
Conclusion
Embroidering your own tea towels can be a fun and rewarding way to add some personal touches to your home decor. With a little practice and inspiration, you can create beautiful and unique designs that will make your kitchen feel warm and welcoming. So why not give it a try?
Image Source:
Embroidery patterns free - https://i.pinimg.com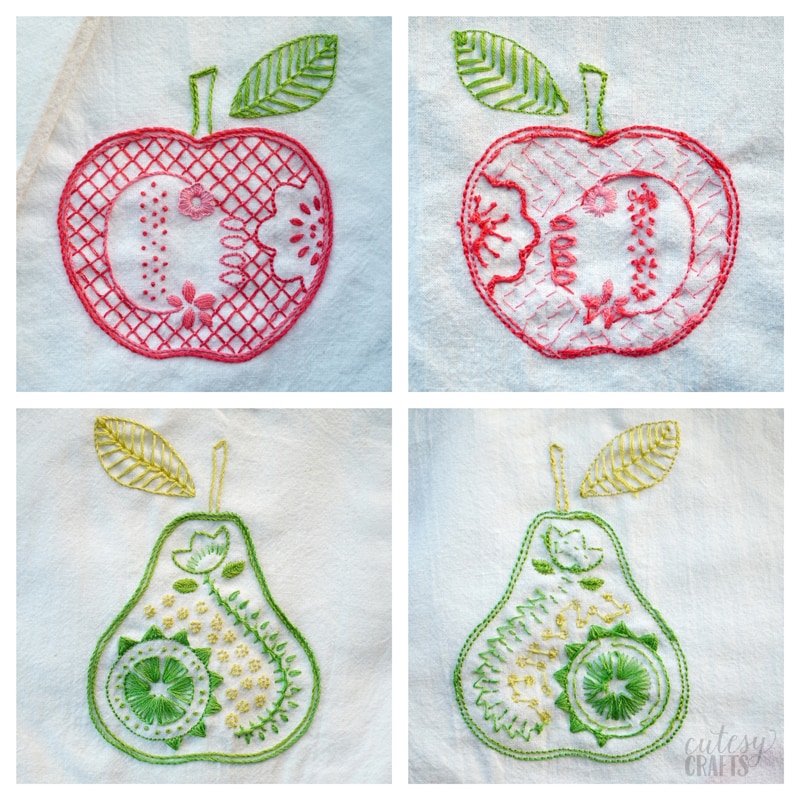 Image Source:
Cutesy Crafts - https://cutesycrafts.com
Image Source:
RedWork Designs - https://i.pinimg.com
Image Source:
Pin on thread drawings & stitcheries - https://i.pinimg.com
Image Source:
Cutesy Crafts - https://i.pinimg.com
Image Source:
Etsy - https://i.pinimg.com